You won't have to compromise while you are on vacation and you will be able to keep eating in a healthy way with traditional and high quality products.
At the Llop Gris, we care about the quality and origin of the products we serve. We want to offer goods that have been grown and produce in the best possible way, with respect for the land, the producer and the animal wellbeing.
The majority of the cow meat we serve is Organic and comes from our own farm, Le Cammas, located in Gaudiès in Ariège, and the rest of meats from nearby friends' farmers.
Our cows are Salers and Highland Cattle breeds and eat freely the grass of the fields in Ariege.
The pigs and sheep graze freely in an area of 15 hectares of fields and forests.
We commit to serving high quality savoured meats, produced in a more sustainable way.
Our food is traditional, freshly homemade and with quality and local products. You will feel like being in your grandmother's kitchen when you were a kid. Our chef conveys the use and recipes of "La Fogaina", the cauldron, and the art of cooking on a spit.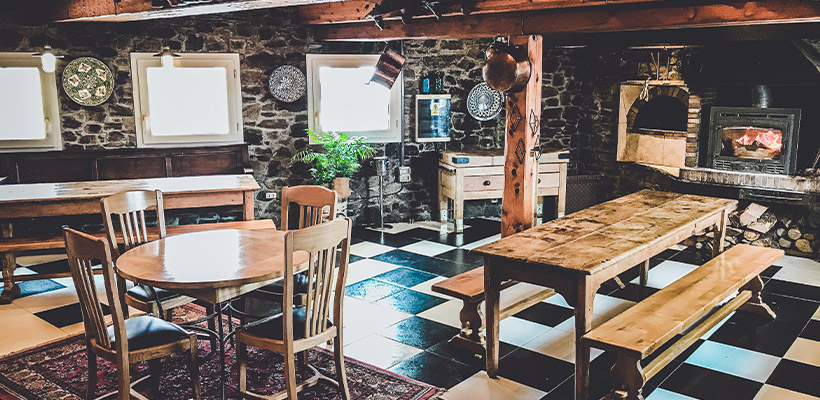 Whether for a good morning coffee, a juice, a soda, a vermouth or a glass, our bar awaits you with a large selection of hot and cold drinks.
You can sit with your family, friends, partner or work colleagues to talk, play board games, share anecdotes of the day or simply remember special moments between all of you. Choose a drink from our menu and enjoy a relaxing moment after a great day.
Here the hours go flying, not because you are in a hurry but because time flies so enjoy until the very last second.
The Veal Ribb, from our own farm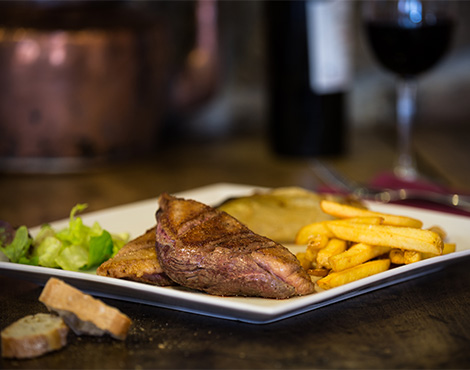 The 100% veal Hamburger with homemade bread, …